Female Naruto Characters; We have a wonderful cast of characters in Naruto and its sequel, Boruto, created by Masashi Kishimoto.
Although the Naruto franchise has always centred on the tale, the characters are also extremely wonderful and deserving of all the praise.
This is what inspired us to write this post, in which we rank the 50 most well-liked female characters from Naruto and Boruto according to their overall popularity.
Everyone and their moms have seen this anime I don't believe an introduction or justification of why this programme is amazing is necessary.
But we do need a space where we can talk about the show's female actors.
Yes, I do think that a strong female cast may elevate an otherwise nice anime to something special.
And one of the main aspects of Naruto is also that. Why not examine some of them today and be grateful for their presence.
Let me present you to the Top 50 Best Female Characters in Naruto, ladies and gentlemen.
Top 50 Best Best Female Characters Naruto franchise
50. Chōchō Akimichi
Karui and Chji's daughter Chch Akimichi is a member of the Akimichi clan.
She is in the same class as Boruto Uzumaki, Shikadai Nara, Inojin Yamanaka, and Sarada Uchiha at Ninja Academy when the epilogue takes place.
Chch is a kunoichi as of the events of Boruto: Naruto the Movie.
Chch loves to eat, much like her father, and she seems to have a special sweet tooth.
She thus finds it difficult to turn down an offer, even if it means missing training. She didn't mind when others labelled her obese at first, but that changed a few years later.
Recommendation- Top 50 Sexy Anime Girls of All Time
49.Sumire Kakei
Kunoichi from Konohagakure, Sumire Kakei was born Shigaraki. Sumire has dark purple eyes and long hair that is braided into two pigtails, framing her face with two chin-length strands and fringed bangs that are separated in the middle.
She wears a white collar with a purple bow around her neck, a light purple sailor dress, and a dark purple broad band around her waist.
She is dressed in a black, long-sleeved shirt underneath the outfit. She also has a shuriken bag fastened to her right leg and is sporting a pair of black boots.
After graduation, she layers a light purple blouse with a large white collar and no sleeves over a black sleeveless shirt.
She is dressed in black shorts and matching black shinobi sandals.
Recommendation- Top 35 Cute Anime Girls Of ALL Time
48. Rin Nohara
A Kunoichi from Konohagakure named Rin Nohara joined forces with Kakashi Hatake and Obito Uchiha under the leadership of the Yondaime Hokage Minato Namikaze.
Rin was a gifted iryounin despite her youth, and she subsequently rose to become the Sanbi's Jinchuuriki. Rin was a sweet, helpful girl who genuinely cared about the success of her team and her community.
She demonstrated this by giving her life in order to stop the Sanbi, which had previously been sealed inside of her, from destroying Konoha.
Her two comrades, Kakashi Hatake and Obito Uchiha, frequently quarrelled, therefore she served as a mediator among her squad.
Rin had a high degree of intelligence since she could utilise medical ninjutsu despite her youth.
Also Read- Top 50 Best Yaoi Anime Of All Time
47. Ino Yamanaka
Ino is a member of the Yamanaka clan and is skilled sensory-type.
she used the signature jutsu of the amnok clan which is called the mind transfer jutsu which allows her to enter the mind of her enemies to get intel and information or to control their minds into doing what she wants.
it's a bit like engine soo but it isn't as advanced as genjutsu.
ino has the earth style water style on fire style. she has been seen as skilled enough to keep up with the likes of s-class ninja like kakuzu and hidan and she also survived the fourth great ninja shinobi war.
which shows that she is a capable ninja. he is also skilled with medical ninjutsu but that is about it.
Ino was a limited character on relied on her good looks and attitude to lead her ninja way.
She has also been seen taking control of the mind of King Kaku who's a jinchuriki of the nine tails so that just goes to show that she is a capable ninja and can keep up with powerful enemies.
Thus if you know I wish for more to say about her but she didn't have a good Drive and good motivations like Sakura did.
46. Sasame Fuma
It's Sasame, the leader of the Fuma clan, who is present.
When Orochimaru first contacted them, she was in charge of the Fuma clan's growth.
The Land Of Rice Paddies was the name of her country. When Naruto, Sakura, and Jiraiya first visited the rice paddies in quest of sasuke uchiha and Orochimaru, she first saw our kid Naruto.
She is fairly plain in terms of looks. Nothing outlandish, just a straightforward layout.
And now I view it as a benefit.
45. Hinata Hyuga
Hinata hyuga is a member of the Hyuga clan. The power of the Hyuga clan sketch again chi the Byakugan.
The Byakugan is a very powerful jutsu that has the power to see the chakra flow in someone his body and also has a 360 degree optic vision that lastly to see close enemies to plan their next attack.
In Berto we got to see her not to use her Byakugan to easily identify the board tools using a ninja weapon in the exams.
He was immediately disqualified. The fact that nor two off-key notes to her Byakugan just shows that even someone as powerful as Naruto needs something like the Byakugan to identify hidden things even he doesn't know.
We also saw he notified her cousin Neji in the shooting exams and he also proved a strong opponent using her taijutsu and her being gone to keep up with son as powerful as Neji.
The reason why I placed an altar above Ino it was because Hinata had motivation and always wanted to prove people wrong that she is a week which made her one of the strongest members of the Hyuga clan.
44. Samui
Wow. To see a Killer B student is such a shock. The Killer Bee that brutally assaults others.
That's quite fascinating, don't you think? She ranks as a highly strong Shinobi because she is the captain of Team Samui.
She also has a really nice look. It's hard not to notice her blonder hair, which has a Tsunade-like aspect.
And who was she like? That's a different tale, though. She is a very chilly person, thus it makes sense that her name means "Cold" in Japanese.
That is a detail, though.
43. Hanare
Yes, she is yet another incidental character from an episode with lots of fluff. I am aware that you have seen a few, but she is unique.
And the key reason for that disparity is because Hanare is the one who ships Kakashi the most.
She is actually viewed as a serious candidate to become his wife.
She is a Shinobi from the village of Jomae, and she has a kind disposition. Her early life was extremely interesting, making her a valuable character all around.
Although not the finest, it is nonetheless noteworthy for fans.
42. Naori Uchiha
Cool backstory supports Naori Uchiha's inclusion in the anime. I won't say too much now, just in case you haven't seen her.
But in the big picture, she was in love with the Izanagi and subsequently turned into an Izanami addict.
And it was because of this that she stood out so much. Her entire look was also a little odd from most Uchiha you may see, with her purple hair standing out in particular.
Overall, a respectable character with some interesting qualities. Quite deserving, in my opinion.
41. Sakura
Sakura has immense physical strength under the techniques of Tsunade and was able to defeat Sasori who is an s-rank member of the Akatsuki.
In Naruto Shippuden Sakura was able to smash through all of the Akatsuki hideout and she also discovered data and sorry most people forget our sorrows.
Also with naruto and sasuke in the defeated Kagura who is arguably one of the strongestch aracters in all of Naruto.
One of the main reasons why Sakura is very underrated was because she killed Shah Suri and Sasori was one of the people who killed the third Kazakh are gay and turned his body into a puppet.
The third classical game was the shortest Kazakh Olga in history, so for Sakura to defeat the person who killed the strongest kalsekar GAE is very impressive.
We also saw Sakura and board to effortlessly be seen for a while using her hand to hand combat and her powerful physical strength to help defeat Shin on his clones.
Sakura is under it and is very impressive as she turns her weaknesses into her shrinks.
40. Izumi Uchiha
Itachi's girlfriend happened to be this stunning woman. Izumi lived a full life in endless Tsukuyomi as a result of Itachi's actions, and I find that to be fantastic.
Because, if you ask me, living a happy life without really experiencing it is quite an accomplishment.
How is she doing in life? She now had a promising future with Itachi, and their dreams had come true.
These were a part of Izumi's childhood, as simple as they may sound. She is on this list for that reason, so.
39. Miina
Oh, I see. Many of you would be rubbing your heads at this moment. Attempting to recall who she is.
But relax, my friend. I'm here to rescue the day, after all. She is one of the supporting characters from the Tonika Village in the series.
She is here for other reasons as well, besides that. She is lovely, which is another factor.
Adorable in every way. She is the cutest and most charming character I can recall seeing in the entire show.
She is on the list as a result of this.
38. Shizune
She served as the fifth Hokage's aide, as you recall. However, as the play went on, it became clear that the bond went well beyond merely the attendant and Hokage.
With both of these characters getting their way, it became stronger and better. Shizune is a cheerful person who served as an apprentice to Tsunade.
Given that she is Dan's niece, she has a deep bond with both Tsunade and Dan.
Overall, she plays a significant role in the series and provides strong services.
37. Mei Terumī
Mei is a powerful ninja who has the rare ability to use the lava style which is a technique and can only be used by a small amount of Shinobi.
Mei was so powerful that she backed Sasuke in a corner nearly defeating him because he was over using a susana.
Mei reminds extremely powerful and definitely deserves its position.
The reason why I put made Terra my above Sakura is because Sakura is in colorful and he had no chance against mushi Qian Qing Kiki when they were fighting with Naruto and Sasuke.
36. Mikoto Uchiha
The woman received what she deserved for doing nothing. If you guys don't aware, Sasuke and Itachi Uchiha's mother was Mikoto Uchiha.
Oh, I see how important she was now. She was never in the spotlight since she was in the background because the show was primarily about her sons.
However, she was extremely amazing as a person. Fun fact: Kushina Uzumaki and Mikoto Uchiha are supposed to have been close friends.
Which makes the romance between Naruto and Sasuke seem preordained.
35. Ruka
Ruka, a reborn Shinobi, was a member of the team under the command of Monga.
She was a girl of importance since she vowed to always defend Monga.
Ruka may not appear like much of a character. But as the concert goes on, unexpected things happen, and soon enough, we get to witness an unexpected side of this woman.
She doesn't have a very striking look. She does, however, blend in extremely nicely with the Naruto franchise's aesthetic.
Advertisement
34. Tsunade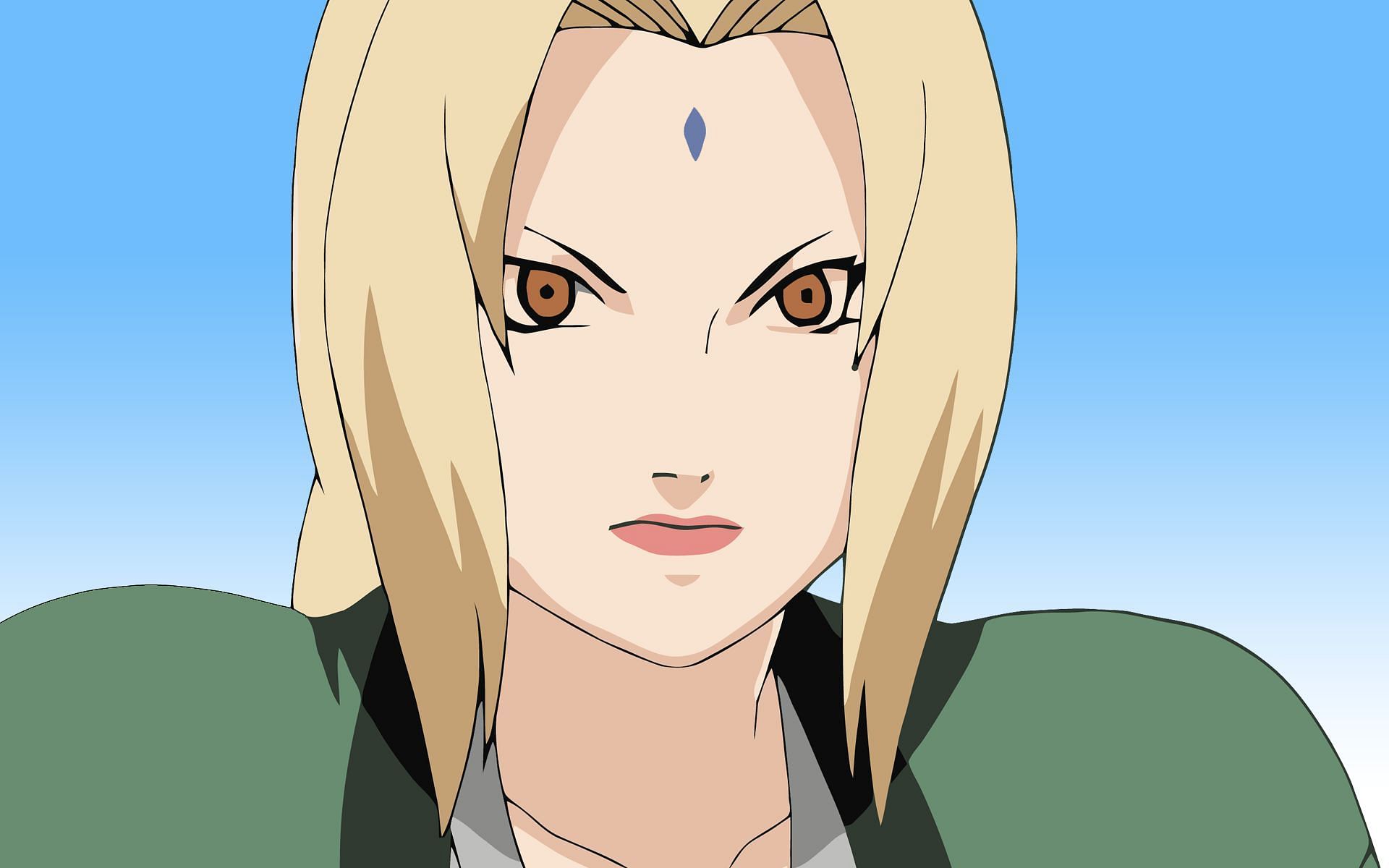 Tsunade is the student of the Third Hokage and is a master at hand-to-hand combat.
Tsunade is also a member of the legendary sannin and was able to survive the third shinobi war and the fourth shinobi war.
Tsunade is also the best healer in Naruto and has the best healing ability.
Her summoning jutsu is also amazing as it protected everyone from pain when he used his almighty push under sure the leaf village.
If it wasn't for some holiday everyone in the leaf would have been dead including Sakura Shikamaru on all of the journeys and all of the ANBU.
Tsunade is also an expert are closer in fighting and she has a bigger physical strength compared to Sakura.
Tsunade is a legend but when the pain attacked to Konoha Tsunade was defenseless because she could only fight at close range and was no match for pain.
Tsunade has no long-range abilities which makes her limited.
33. Ayame
We adore the ramen shop Ichiraku. As a result, we must likewise adore Ayame, this lovely woman in front of us.
She is a restaurant employee who is a resident of Konoha. Which restaurant, I hear you ask?
She does really work at Ichiraku Ramen. And in a sense, her father's residence is this business.
She isn't really noteworthy. But because she was one of the people who treated Naruto nicely, he feels just like a regular human.
Anyone would want to be friends with this sweet, lovely woman.
32. Kazamatsuri Moegi
Do you recall the girl from Konohamaru's team? She is the one, no doubt. She was only a fine supporting figure in the big picture, though.
However, we get to witness some character growth as the show goes on. She is significantly more prominent in the most recent Boruto episodes.
In conclusion, I can say that Kazamatsuri Moegi is a rather entertaining character in the anime.
She was mostly a child in the Naruto series, which is another reason why we would love her appearance.
31. Temari
No one should be surprised by this. I still recall how excited I was to ship Temari and Shikamaru when I first saw their epic battle.
However, it seemed as though the makers were paying attention to me when the ship turned out to be real.
She is definitely a girl when it comes to uniqueness, though. mostly due to her past physical strength.
She was one of the best female characters in the show even in Naruto Shippuden because of her exceptional presence as a Shinobi.
However, you should think again if you believe her to be your Waifu. Because maintaining her as your Waifu might be a hassle!
30. Matsuri
When the renowned Gaara is with you, you may be confident in your future. She was Gaara's first pupil when he was a little lad.
She is a genin from the village of Sunagakure, simply for fun. She has Yukata and Mikoshi as teammates.
It's noteworthy to note that during the whole series, her sensei—the one assigned to her team—was never visible.
Regarding Matsuri, she is a simple supporting figure who hardly made an appearance in the programme.
She does not, however, possess any drawbacks.
29. Kushina Uzumaki
Kushina Uzumaki is the mother of Naruto and also the key to the key of the nine tails.
Kushina was able to use the power of the mantles and also had the power to control the nine toes.
Even when obiter was taking the power of the nine tails away from cushion art she managed to survive compared to and the Akatsuki were taking the power away from Gaara he died instantly.
Gaara died while he didn't have a great and massive life force like pushing a dead.
Gaara will soon brought back to life back here. The fact that Kushina was able to control the nine toes says a lot but because mostly cookies can't control the powers but Krishna was so skilled that he managed to keep the nine tailed fox on her control.
Even her over to was taking the power wave Christina she still survived which is very impressive and very rare.
When Christian was stabbed in stomach by karma he still survived which just shows that her life force is probably one of the best cushion was Robidas and was very underrated.
28. Shizuka
I find the conditions Shizuka has experienced to be nothing less than fascinating.
But first, let's find out where she is from before we investigate that. Shizuka is a native of the Nadeshiko village and serves as its current head.
She was expected to wed a Jiraiya student and vanquish her in a duel, which is the intriguing aspect I alluded to before.
Yes, it is the law, and in my opinion, that is what makes her exceptional.
Such personalities don't appear frequently, after all.
27. Fu
Powerful shinobi from the village of the waterfall she the jinchuriki of the seventh cell I'm the most powerfulmember from her village.
The reason why I put food above everyone else I've already listened is because she is a jinchuriki and had a really big potential but sadly she was captured or maybe if use her abilities her potential that she could have been right high on this list.
But because of her natural ability of actually having a jinchuriki means that she deserves the spot.
26. Yugito Nii
Yugito is a powerful shinobi from the village hidden in the clouds and it's also the jinchuriki of the two towels.
Yugito was a very agile and smart shinobi she mainly used to the fine-structure suits and used the elements of powers to turn them into different shapes like a mouse or a cat to confuse her enemies and love them into a death trap.
Yugito was able to transform into her fortune Saluki being able to enable and use all our powers give it to her making her a formidable and powerful opponent.
Yugito Nii a truly powerful and even stronger than Kelly be at some point in her life easily showing that she is a shrew about us and one of the most powerful jutsu the keys.
25. Karui
Ladies and gentlemen, the wife is in the room. Some of you would recall her, I believe.
particularly if you're all lovers of Boruto. She is a part of both Team Samui and the Kumogakure village.
She marries one of our primary characters, Choji, since, as I previously stated, she is a wife.
I must admit, my guy struck it fortunate on that one. She also moved to the Konoha village when she married him and joined the Akimichi clan.
She makes a fantastic secondary character for the show overall.
24. Konan
Konan is a powerful shinobi from the rain village.
She has a unique ability that allows her to turn her body into paper which lets her control all types of paper including explosive paper.
Tags shows thoughts ninjutsu and title subas herrero she also had the ability to turn her whole body into paper butterflies to other spiral and enemies of use as a counter-attack.
She was also able to create paper shurikens and control people's bodies of the mummifying them to use as a counter.
Konan was even so powerful that she came so close to even defeat orbiter and kill him when he had his monkey coach.
Alan garner also had more murderous knowledge. Most people say that if it's also for bateau using his Easter Nagi he would have been dead and Conan or whatever defeated him.
I can't think of any female carrots that would of being able to defeat someone as powerful to accept from Kaguya Ōtsutsuki
23. Kaguya Ōtsutsuki
So they have a guy as calculates the strongest fimo carton all of Naruto I'm probably the strongest North character.
Kaguya Ōtsutsuki also known as the goddess of shinobi or the mother of all shinobi and she is known for her divine power and the first person to ever have any sort of Jitsu or chakra.
Kaguya history is very confusing but what we know is that all Charcot comes from her and he was the first person to connect to the divine Sheree.
Kaguya gave birth to the sage of six paths and is responsible for his power so it just goes to show that she is the strongest and there's really nobody strong.
22. Ameyuri Ringo
I think we're all familiar with the Seven Ninja Swordsman of the Mist.
Therefore, Ameyuri Ringo should be viewed with caution by everyone. She is one of the Kirigakure village's ninjas, and her squad of seven ninjas is not comprised of members of the present generation.
She is much more deadly because she belongs to the older generation. After all, Madara was a member of the generation before.
And I believe we are all aware of how dangerous he was. Ameyuri Ringo is definitely a disaster.
21. Tenten
Tenten is ignore chief from the village of the hidden leaf and a member of team eleven.
From a young age Tenten wanted to become a legendary warrior like the Sun and Tsunade.
Unfortunately she didn't possess the chakra control required to be a great medical ninja.
This didn't stop her however and she focused all her studies into weaponry fuan jutsu techniques.
Tenten is deadly with all weapons due to her extensive training. She actually collects weapons from all over the world as a hobby.
In the first part of Naruto Tenten is a strong-willed and serious shinobi. She often looks to Neji for guidance rather than the leader of team eleven might guy whose antics annoy her.
Through various missions Tenten realizes her gift for Fuu and jutsu a type of jutsu that seals living beings objects and a wide variety of other things within a scroll.
Through the use of this Tenten keeps her arsenal and can store items as large as a metal dome.
Tenten is so proficient with weapons she handled almost all of the treasured tools of the sage of six paths and later goes on to display several of them in her shop.
She opens after the events of the fourth shinobi world war.
By the end of Naruto Tenten is considered to be one of the strongest shinobi of Konoha and without a doubt the deadliest one with weaponry.
20. Anko Mitarashi
I was flattered when she initially appeared. Oh yeah, when she showed up to teach during the Chunin exams, she was quite the mess.
At first, we could have dismissed her as a figure who was too joyful. But eventually, we get to see her experience and deeds in action.
And if you ask me, that was quite an achievement. She had a lengthy history with the Legendary Sanin, was intelligent, and was strong.
Anko had a life that many of us would like to have thanks to everything that was working in her favour.
And we'd all like to take advantage of her talents.
19. Yugao Uzuki
Do you know about Kenjutsu? If you did, Yugao Uzuki ought to be a person of interest to you.
She is an expert in Kenjutsu and the Anbu commander of Konoha. She also had a romantic relationship with the late Hayate Gekko, a Konoha-born Shinobi.
She has a difficult life, so you can be sure of that. She is also associated with our boy Naruto.
And this just serves to increase the case for praising her.
Overall, she is a respectable figure who could appear in the coming generation.
18. Hanabi Hyuuga
I'll be honest; I was missing her somewhat.
This is due to the fact that she no longer receives sufficient screen time in the anime. Furthermore, everyone is aware of what happens when a character doesn't spend enough time on screen (cough, TenTen).
So yeah, I really hope she gets more screen time, especially in Boruto.
Additionally, Naruto's contribution was little, but whatever works, guy. When you are up against hundreds of characters, including your sister, it might be difficult to stand out.
And for that reason, ladies and gentlemen, Hanabi Hyuuga is present. I hope your home is filled with admiration.
17. Karin
Simp Sasuke Many of us would characterise Karin in that way. Although she originally appeared in the series with her admiration and "SIMPING" for Sasuke, that wasn't her only quality.
She was impressive as a Shinobi since she was able to go up against our primary cast.
And many of us are captivated by her charisma. She is compared to Kushina Uzumaki a lot because of her red hair.
And I think it is a quality about this character that really shines out. Overall, a fantastic supporting player for the brand.
That is the reason she is here.
16. Tayuya
Do you recall the sound four? Yes, she is a local. As an Otogakure-affiliated Shinobi, Tayuya is a member of the Sound Four team.
She had a strong personality when she initially emerged. She was the only female member of the Sound Four ensemble, which is an interesting fact.
She was one of Orochimaru's top bodyguards, so you may have anticipated a fantastic performance from her.
We can all agree, I believe, that she performed her job. She definitely had a nasty mouth and a short fuse.
However, she was a very effective villain.
15. Kin Tsuchi
So kim tsuchi is the sassy female ninja and member of team dosu who we first encounter in naruto volume 4 chapter 35 and episode 21 of the anime.
With jet black hair that goes almost all the way down to the ground.
A sleeveless vest and the signature sound ninja snake camouflage pants and scarf.
Personality wise it seems that ken shares the same cocky and overly confident attitude as her partner zaku.
With an affinity for yin release and genjutsu now ken is unique as her attacks and fighting styles are a bit over the top and in my opinion from a convenience standpoint.
Not the most effective way to get rid of an enemy but i mean hey it makes sense as she is a hint sound ninja.
With her weapon of choice being bells sinbonne and wire strings ken focused on using her sin bone as a part of her fighting style which she could throw with great accuracy to strike her opponent's vital points.
Often attaching bells to her sin bond to confuse and distract her opponents and using the sound of her bells to cast a sound-based genjutsu.
Her main technique shadowsenbon which is basically her throwing two thin bone at the same time.
Once in bond having a bell attached to it to grab the target's attention to get them to dodge the attack while also throwing.
A second synbone simultaneously with without a bell on it to silently strike the opponent and her again jutsu bell ringing technique.
Using the vibration frequency of the bells the sound travels through the eardrum directly to the opponent's brain.
Causing the opponent to hallucinate and see multiple versions of kin which she uses in her fight against shikamaru during the tuning exams.
Ken also seems to dislike and disrespect weak and useless females. taking many jabs as sakura and making remarks about sakura's poor fighting and ninja abilities during their confrontation in the forest of death.
Ken also was one of the main reasons that sakura is who she is today.
Inspiring sakura and even eno to take themselves more serious as female ninja.
I like ken a little bit i mean she was modestly good looking with a with a fiery personality and she had good banter and chemistry with shikamaru and honestly if tamari wasn't in the picture i could see shikamaru winding up with ken.
Overall her approach is pretty ruthless but at times you see a human side of her.
During the destruction of konoha she however was killed by arushimaru and used as a sacrifice to reanimate the first and second hakage along with zaku and that was the last we've seen of kim.
14. Yuuhi Kurenai
With her crimson eyes, how many of you assumed that she was a Uchiha?
Yes, I agree. But I imagine that she herself believed that she belonged to the Uchiha.
Otherwise, who would have the guts to enlistitachi uchiha as a Genjutsu student? Kurenai was, nevertheless, fairly sombre in terms of look.
She possessed a healthy balance of power, femininity, and masculinity.
She was a Jounin and an instructor, thus her abilities were amazing and her contributions to the later stages of the play were crucial.
If we're talking about beauty, she excels in that area the most. That is the reason she is here.
13. Natsuhi
If you're a die-hard fan of Naruto, you probably know about the star training.
And if you do recall it, I'm sure you can recall Natsuhi as well. She is a Hoshigakure Jonin and one of the few Shinobi to successfully finish the Star Training.
She was not the only person who did this. Additionally, her spouse had finished the training.
Her appearance in the anime wasn't particularly impressive. When she is on screen, she does provide a high-quality experience.
She is on our list for this reason, therefore.
12. Kagero Fuma
Now just like the hidden star village kaguro is one of those badass characters that it really irritates me that musashi did not develop or anyone of her likeness further on in the series.
Now kagura is a fuma clan member along with arashi fumo who was a member of the fuma clan and was tricked by rochimaru into joining the sound village and guarding urochimaru's base hideout in the land of sound.
Kagura being a joni level ninja possessed an affinity for earth and fire release.
Kagura was a very plebex ninja although she was a zoning status.
She would often disguise herself as a hunched back man with a grotesque appearance and seemed to use only earth style release in this form.
While in her true form she was able to use her and lion oh my gosh ethereal technique.
Basically turning into her true form while creating four firefly like chakra wings and firing out a powerful blast of energy from those wings and also being able to use those wings to fly.
Again sort of like the ninja from the hidden star village kaguro claims that she can only use this technique once in her lifetime because it consumes so much of her chakra that she is rendered near death after using it which kind of sucks but anyway.
Kaguro is also able to instantaneously transport while in this form as well or better known as her dragonfly technique.
Kaguro also being able to use fire release in the form of a flammable gas and she also managed to tank a rosingan from naruto while fighting naruto.
Sakura haruno and jarya and as the last resort kaguro was able to perform the fuma clan's forbidden heart chakra string jutsu.
While kagura was pretending to be kabuto kagura connecting the chakra threads to naruto's heart connecting hers and naruto's heart.
She was able to rip her heart out of her own chest and survive with the intent of killing herself along with naruto.
With naruto being saved last minute by sasame another member of the fuma clan who only they can cut the chakra threads.
Using a fuma clan tag and the failure of the jitsu leading to kaguro's death in the process and personality wise it seems that kagura has a meek and somber personality.
Yet loyal to her clan anderochimaru with a love for poetry and with all of these feats and cool jutsu it's a shame that kagura had to die always brushed off and i swear masashi wastes the best of his characters in filler.
Can you imagine kaguro versus a star village ninja or how they would have been in the war versus the tin tails that would have been epic.
11. Guren
I'm not going to lie; I don't particularly like her design. I'm referring to her general expression, her colour, and her spiky hair.
I just don't get the Waifu feelings from it. Now that I've stated it, though, I fear that many of you could turn on me.
She belonged to Otogakure, though, and served as the head of the team that was meant to be Orochimaru's servants.
When you take up such a prominent position in the performance, you can tell that you are a significant figure.
Guren is deserving of being on the list for this reason, weebs.
10. Tsuchi Kin
She was Waifu stuff when she initially emerged, I won't lie. Seriously, I wanted her to change for the better and become the best girl on the programme.
But things didn't go as I had planned. She belonged to Team Dosu and was a Shinobi from Otogakure.
If you recall, our boy Orochimaru had his own motivations for sending them to the Chunin examinations.
She was also quite a commotion herself. Naruto later in the series prevented her from dying, which was another outstanding anime moment.
She had a little bit more screen time there.
9. Haku
Let's introduce to haku in volume 2 chapter 15 of the manga and episode 9 of the naruto anime.
Haku was born in a small snowy village in the land of water.
Advertisement
The village suffering from the effects of war which some would say was a war of keke genkai and thus those who possessed the kkkenkai were feared in many villages within the land of water.
For fear that their existence would bring more war.
Haku's mother and father were simple farmers. However haku's mother possessed an ice type in kai and hid it fromher husband and haku.
However one day haku learned on his own how to manipulate water and a child haku showed his new talents to his mother.
Only for haku's father to see in horror that his wife and son were wielders of a kk genkai.
Haku's father then led a small mob and killed his wife.
He and the mob then attempted to kill haku. However haku did not give two shits and before his father could kill him haku had awoken his ice release keke genkai to create several large ice spears and killed his father and the rest of the mob.
And side note in my opinion i think haku's mother was originally from the hidden snow village.
Becoming an orphan and soon after was taken in by the rogue ninja turned mercenary zabuza fast forwarding to his first appearance in naruto.
Haku is a 15 year old boy with an androgynous appearance and going to be even prettier than sakura haruno from naruto's mouth himself.
Wearing an ombre mask with brown hair and pale skin with a green coyote walking brown stilettos we rocking stiletto hoes.
I mean sandals and using sandball needles as his weapon of choice with a calm good-hearted and meek personality but willing to do anything for zabaza.
And ability wise haku was on point and a gifted shinobi who would have had a lot of potential if he had lived on and in many ways haku had become more dangerous than zabuza.
With his tremendous speed and an affinity for water wind and ice release with haku's combining his wind and water release to create his signature ice release granting haku his most infamous ability and staple jutsu hidden art crystal ice mirrors.
Haku surrounding his target with a crystal mirror created from ice.
Haku could cast his reflection and travel at a high speed amongst those mirrors attacking his opponents from seemingly all directions.
Haku also being capable of using his ice defensively as a dome to block multiple explosive tags at once.
As well as his 1000 needles of death jutsu turning water into sharp ice needles and piercing his enemies with a barrage of ice spikes.
With great accuracy and intelligence haku is quite skilled in the human anatomy and is intelligent just in general.
Being show n to not only masquerade as an ombu ninja but it even accurately hit zabaza's pressure pointsand tempor arily kill zabazad to fake his death.
Being shown to easily be best naruto and sasuke although sasuke putting up a good fight after he awoken his sharingan aka genkai versus kk genkai match.
But in the end haku decided to run to zabaza's aid and was pierced by kakashi's lightning blade being a shield for zabaza.
8. Isaribi
If you lived like Isaribi, you will be at the entrance of hell. She resides in the Land of the Sea as a resident.
You guessed it—she was a test subject for human beings. Yes, a young girl was used in the experiment.
When did this programme become so grim? She was in charge of Amachi, which was another factor in her strength as a character.
due to the fact that many of her arc's events were affected by hers. And this is only one of the numerous causes for why people experience Isaribi so strongly.
She merits this position.
7. Karin Uzumski
Uzumaki we were first introduced to karin at orochimaru's southern hideout in volume 38 of the manga and episode 115 and naotoshi.
With fiery red hair which is a typical staple for those of the uzumaki clan including the likes of mito kushina and nagato.
Due to the fact that the uzumaki clan was wiped out the remaining survivors of the clan were spread out and forced to live a life as wanderers.
Karine and her mother were taken in as refugees and allowed to stay in the hidden grass village.
Under the condition that kyrie's mother uses her body to heal the hidden grass village's wounded men under zosu's watch.
So read between the lives and take that how you want it and unfortunately kyrie's mother died shortly after the wounded grass ninja literally taking bites out of kyrie's mother's body and siphoning her chakra to the extent that she wound up dying.
Advertisement
And unfortunately they decided to use a child karin and use her body for that same purpose.
So again take that how you heard it with definite under tones of the sins of war and for lack of better world child neglect.
Advertisement
Some time after kyrie was able to use her sensory abilities and detected a second wave of invading ninja approaching the village she was in.
Not telling anyone about the incoming army of intruders a child carrying hid while the invaders burned down and attacked the villager killing them and the shinobi in it.
After the crossfire karin was approached by rochimaru who was astonished that she was able to detect oncoming enemies from such a far distance away.
During her time with kabuto and orochimaru her uzumaki and healing abilities were studied.
Karin alongside with kabuto were even involved in the experiments with kimimuro and jugo and became in charge of the southern hideout.
Personality wise karin is a little all over the place at times she can appear to be very composed and in control and pretty violent when it comes to suigetsu and very much an obsessed fangirl when it comes to sasuke.
With an affinity for yin yang water earth release karine joined team heavy for obvious reasons being sasuke.
When sasuke asked cutting to join them at the northern hideout laboratory and she didn't really hesitate joining as sasuke was the one who asked her.
Ability wise kharin appears to have displayed s-class sensory capabilities being able to distinctly differentiate individuals chakra signatures even amongst a crowd.
And karine being a full-blooded uzumaki has an immense life energy of chakra.
Being shown and able to heal a dying sasuke and tsunade by them biting into her arm and absorbing some of her life energy to recover.
Uzumaki just like fushina uzumaki kaurin can also summon giant chains that appear not only to tear apart whatever it touches but also drains the chakra of what it comes in contact.
Even being able to stop suigetsu's water form ability.
Karine played a very important role in helping team heavy track down itachi uchiha and team taka hunt down danzo .and being pierced by sasuke's chidori spear because she was in his way.
While he was trying to get to danzo and even in that coloring still showed affection to sasuke which is expected because literally kishimoto sucks at writing female characters.
Either that or he seeks joy from writing shitty female characters.
Anyway after that we never really got to see much of karine outside of brief cameos during the war from healing tsunade and being the possible closest thing alive to being a possible blood relative to naruto.
I guess you could say tsunade as well because tsunade's grandmother muto is also uzumaki as well and that's probably why tsunade was able to create the biaku seal and sustain her life force for almost 100 years by way of her uzumaki blood.
6. Shiho
She is the sort of geek that anybody can identify with. Just look at her spectacles, I mean.
That alone is more than enough to demonstrate who she really is. She was a member of the Konoha Cryptanalysis Team and is a member of the Konohagakure Ninja community.
As its name implies, this team does research for the benefit of the community.
And part of the reason she is acting in this way is because she is geeky.
Her nerdiness is another factor in her attraction to my son Shikamaru.
It's basically a case of genius seeking genius.
5. Suiren
I think Suiren is a quite lovely character. Her hair alone makes me think of Ino.
Her eyes, which are really extremely remarkable, come next. And what sets her apart from the throng is her entire beauty.
She is also a lovely and kind person who wants to advance and strengthen peace in our world.
And I think that's a very good concept. Suiren is a good character, in my opinion, to be on this list and raise the calibre of it.
4. Hotaru
Introduced in episode 144 of naruto shippuden hotaru is a female ninja from the tsuchigumo village.
A village on the outskirts of the hidden mist village and is also a member of the tsuchigumo clan just like utakata.
And is the granddaughter of the leader of the tsuchigumo clan.
With green eyes blonde hair and fair skin hotaru was introduced being saved by uttakata from a group of ninja that were after him.
Uttakata injuring himself by protecting hotaru was taken in and healed by her and shortly after he healed hotaru asked utakata to teach her how to use ninjutsu reluctantly.
Teaching hotaru and discovering she has an affinity for water style shortly after coming across naruto and team yamato.
Hotaru is left in the protection of naruto and team yamato as they escort her back to the tsuchigumo village.
Team seven then leaves hotaro with the tsuchigumo clan and shortly after hotaru is betrayed by her village and offered up to bandit ninja and fortunately hotaru was saved by utakata.
After her rescue hotaru begged utakata once again to teach her ninjutsu that she could learn to protect herself.
With removing her robe and showing utakata the tsuchigumo's clan kenjutsu and greg on her back only to be ambushed by hidden missed ombud and hotaru being taken hostage.
The missed andrew made a deal with team yamato to release otaru in exchange for uttakata and shortly after this encounter hotaru is once again deceived knocked unconscious and taken back to the tsuchigumo village where the seal on her back is released.
3. Fuuka
She could resemble Kushina Uzumaki's sister if you see her from the front.
But the truth is a little bit different. One of the supporting characters in the show is Fuuka.
She also came from the party of grave robbers that exhumed four of the Twelve Guardian Ninja who had died, if you want to call it that.
I believe you can comprehend the gravity of this situation even if you haven't seen it.
Anyway, she has a nice look, which is another reason for you and I to include her on our list.
2. Ameno
Under Ameno, there is a straightforward and endearing ninja. She is a member of Team Ameno and collaborates with Koji and Shishio. She is a Shinobi from Sunagakure.
She healed Sakura haruno when she was injured, which is why I stated she had a compassionate nature.
However, Sakura haruno was a stranger to Ameno at the time, thus I find it amazing that she was able to cure her.
A place on this list would be well worth it for a girl who is so kind and humble.
1. Naho
Just a sweet young child, Naho. That's how I'd characterise her. She attracts a lot of attention as a result of her connection to the Fire Daimyo.
She is also a resident of the Land of Fire, which further characterises her.
The finest one, though, is unquestionably the way she developed feelings for Sasuke. Yes, she fell head over heels for my lad after he helped her out of a jam.
Women like Naho look up to my guy sasuke uchiha because he never misses, in my opinion.
About Author