Are you looking for cute anime girls?
You have come to the right place. In this article, I will list the top 35 Cute Anime Girls Of ALL Time.
This article's research is based on my personal opinion. I have put all the cute anime girls from the anime I have watched so far.
This article will provide you with a list of 35 charming and adorable anime girls.
Make sure to read it till the end.
Let us begin.
35.Akeno Himejima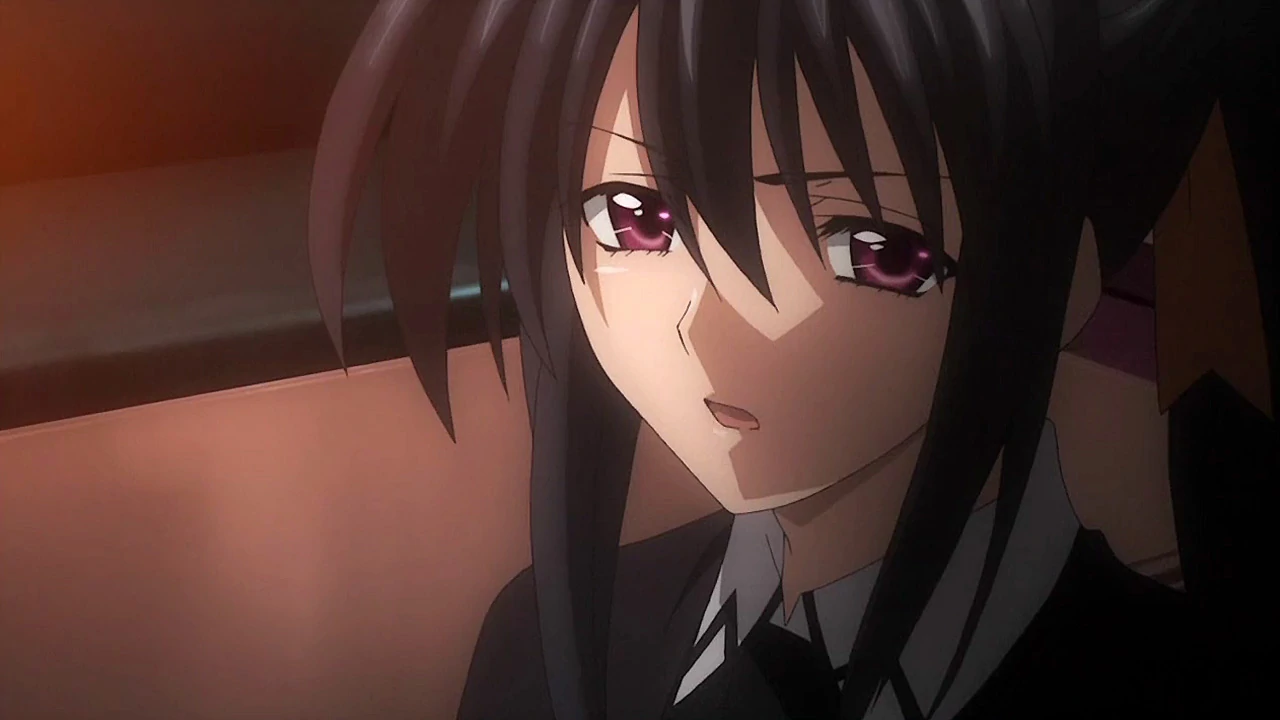 Akeno attracts everyone's attention with her long, black hair and violet eyes. Her stunning physical appearance and kind and elegant demeanour only serve to enhance it.
Akeno epitomises what an ideal Japanese woman should be. Her look is proof that she is a fallen angel.
keno has a completely different demeanour when fighting. She kills adversaries quietly.
She has become internally chilly as a result of seeing her mother's passing.
She is in love with Issei.
Also Read- Top 50 Sexy Anime Girls of All Time
34.Madoka Kaname (Puella Magi Medoka Magica)
Notice all the magical girl genre if you want to source the guarantees happy-go-lucky and naive enemy lasses this would be a good place to start.
The protagonist of the series Monica is an all-around likable character has no trouble making friends.
The desire to help others especially can she becomes the ideal candidate to become the next female protagonist.
She's sweeter than cake and her willingness to protect everyone is a testament to her character.
Of Hellenic and her friendship with fellow female protagonist Hamada is just the sweetest.
I think she is one of the best cute girl in anime.
Recommendation- Top 50 Best Yaoi Anime Of All Time
33.Mirai Kuriyama( Koriyama beyond the Boundaries)
No one can escape their heritage but that doesn't mean they have to be a slave to it either.
Born into a family of spirit world warriors it's mirai's job to hunt down terrifying creatures known as youma despite the fact she's a first-year student.
Understandably shine introverted due to the fact that her power of blood manipulation makes her pariah even among other spirit world warriors.
32.Sakura Kinomoto ( Cardcaptor Sakura )
Speaking of cute heroes after accidentally releasing the cloud cards items that contain powerful magic into the world.
this high school athlete becomes the newest card captor tasked with retrieving the cards before their powers cause too much trouble.
While there is definitely an air of threat this anime much like its protagonist is filled with a joy and innocence that is just infectious.
Sakura is your typical clumsy but good-natured student was thrust into an adventure way beyond her ability but still manages to come out on top with her unyielding determination.
Sakura has no trouble capturing our hearts.
31.Rei Ayanami (Neon Genesis Evangelion Franchise)
While an overwhelming sense of sorrow and death surrounds this series today is an undeniable glimmer of light.
She may be socially withdrawn and seemingly emotionless to others but a progressive relationship with shinji demonstrated just how much charm she had beneath that cold shell.
Of course fitting in with the overall theme of Evangelion these moments of cute respite are shattered.
When it's revealed that ray is nothing more than one of several clones harvested from the remains of Shinji's dead mother and a vessel for the angel Lilith.
Even with such a gruesome revelation we can't deny the cuteness.
30.Mayuri Shiina (Steins,Gate)
Well the self-proclaimed mad scientist Okabe may have a beautiful assistant in the form of kinesin. maka say it's for certain that the team's cuteness factor comes from IOT.
Despite working at a maid cafe and providing Okabe with all the general financial healthy needs this particular companion is truly a child at heart.
Well some of it may have todo with trauma or just her personality in general her overall look and attitude makes her much beloved.
No matter how much she acts like a kid so it's a little gut-wrenching to see her die over and over.
29.Shiro (No Game No Life)
You have never met a gamer quite like this girl along with her sibling the para fine their skills put to the test when they're transported to a world where you have to play to survive.
It's one part of the ultimate gaming duel judo is the logical side a genius when it comes to anything requiring her gaming prowess.
However as a neat she's still terrible when it comes to social situations or dealing with her own emotions.
A beast when it comes to gaming she's the last person we want to take on in multiplayer even if deep down she's a sweetheart.
28.Mio Akiyama (K-On Series)
Turn the music on with K-On okay, that won't be simple because there are several things wrong.
One the k-on band is soon to be disbanded and two none of the members in this band can actually play an instrument.
Yui hirasawa is struggling to keep the position of her band in school and her teammates try hard to achieve that as well.
But as i mentioned it's going to be difficult when none of you have the talent but skill and talent are two different things so if they don't have the talent then they're going to get that skill.
The basis for the light music club Neos cuteness is only amplified when she plucks the strings.
She's anxious by nature often preferring to avoid the spotlight.
Her shyness even extends to the point where she's fainted from just imagining embarrassing situations.
Despite this awkward but hilarious handicap she's a loving individual who fully devotes herself to her Club and her fellow bandmates.
She even steps in to provide vocals when their singer loses her voice but things don't quite go as planned.
27.Popura Taneshima (Wagnaria aka Working!! Series)
Cuteness comes in many sizes though this pint-sized waitress hates tobe r eferred to as short.
Despite being in her late teens cope at his height is a sore subject for.
Especially around her workplace as a waitress but there's no denying that it adds to her sweet demeanor along with that bubbly personality of hers.
In a restaurant filled with quirky characters with their own wacky flaws popota acts as something of a mediator to all the drama.
For unbelievable lack of awareness highlighting her optimistic but naive desire for everyone to get along.
She's the heart and soul of wagon aria.
26.Rikka Takanashi (Love, Chunibyo and Other Delusions )
We've all thought up our own world of make-believe at some point but some ticket to the extreme.
Say hello to Rika who's pretty much replaced life with fantasy. Unable to accept the passing of her father she threw herself into her own story.
Battling the forces of darkness wielding the tyrants eye and searching for her father on the ethereal horizon.
Of course these only exists to cover her crippling shyness and lack of friends.
However we see her slowly start to accept real life as she becomes closer to her crush buta watching Rika overcome these anxieties and her a hug.
25.Nadeko Sengoku ("Monogatari" Franchise)
A life filled with unrequited love and curses isn't the easiest to live.
The focus character of two arcs that take place over this expansive series. nautical was unlucky enough to first be struck by a snakes curse and later become a snake goddess.
After overcoming these ordeals she conquers her shyness as well as her rejection and pursues her own life goals.
It goes undying love and commitment to the often lecherous auto dagi is the testament of her sweet natured personality.
Slithering her way to the top this wounded soul manages to trump others with her resilience adorability and innocence.
Just remember to bring her in offering the same okinawa.
24.Sleepy Princess In The Demon Castle
Who doesn't love a good night's sleep though chances are you've got nothing on princess silas.
Despite being kidnapped by a demon king all this nonchalant royal wants is to sleep soundly and it doesn't matter whose day she has to ruin to get her way.
Her interactions with her surprisingly chill demonic captors never fail to earn a laugh.
Even if it becomes increasingly obvious that the biggest demon in this castle is saya herself but come on look at the flying teddies we need this in our life.
23.Laid-Back Camp
Ever wanted to experience the thrill of the great outdoors from the comfort of your own home.
Well now you can courtesy of these gals and their treks through the japanese countryside.
On paper the premise might seem boring but the way in and the rest go about planning and executing their camping trips is oddly enthralling.
Not only will it educate you on this oddest of hobbies but it will likely have you purchasing a compact grill by episode's end.
Seriously how do they make the food look so good.
22.Tonikawa: Over The Moon For You
There are plenty of rom-coms out there these days that range from serviceable to uncompromisingly adorable.
This one falls into the latter category and for good reason. after a mysterious girl saves him from an early demise nasa falls head over heels for her.
With the two going on to get hitched lickety-split. Thus we have our tale of young married life a far departure from the usual slice of life there.
What sets it far above the rest is just how much our two leads complement each other.
While also traversing the perils that come with being a hubby and wifey at such a tender age. They're just too precious.
21.Kaguya-sama: love is war
They're the modern phenomenon we just can't get enough of.
The comedy factor here is uproarious pitting two genius students against one another as they endeavor to do the impossible get the other to confess their feelings.
Interactions constantly blur the line between adorable and infuriating due to their own stubborn refusal to state their undying love for one another.
Thankfully the journey there is anything but boring. Thanks to the wholesome supporting cast and endless romantic flubs the pair finds themselves in.
20.Hidamari Sketch
If you're in the mood for something a bit more bite-sized but with just as much charm then following the daily antics of these wannabe artists might be your cup of tea.
With each little scenario delivered in digestible chunks lounging back and watching the girls try to overcome their artistic slumps makes for a pretty fun time.
They're not afraid to get a little crazy with the gags either helped immensely by how various animation styles are often blended together into the same scene to give the jokes a little more spices.
19.Megumin
Megumin, the Arch Wizard of the Crimson Demon Clan, is another one of the series KonoSuba's prominent characters.
Megumin resembles a "porcelain doll," according to Kazuma.
Megumin has damaging abilities and enjoys bragging about them. She constantly carries a black staff and wears a black cloak with a wizard's helmet, a choker, and fingerless gloves.
That is typical witch clothing. She enjoys using her destructive abilities and doesn't think about the consequences.
Megumin is lovely in her own right. She is a truly kind person despite her destructive nature. She enjoys defending the people she loves.
It's unbelievable to think that such adorable faces would ruin things without even thinking about the consequences.
18.Tamako Market
Here comes cute girls doing cute things video done by kyoto animation. The studio's legacy still remains one.
Get ready for a cuteness overload and then some.
One day a girl named tamako kitashirakawa stumbles upon a bird named dera moshimazi who comes from a far away royal country in search of a bride for his prince.
But soon this bird gets addicted to the mochi made in tamako's house and becomes painfully overweight after eating a lot of them.
Now unable to fly to its home it decides to stay in tamako's house.
Focusing on the everyday life of tamako and her close circle of friends the series is all about earning those awes.
From their school life making and selling mochi as well as the most innocent low-key romance you'll come across everything in this series is just bubbly.
Tamako market is filled with a lot of comedy and gags and more than anything you get to experience he daily lives ofcute girls who keep doing cute things until the end of the series.
It's perfect for those not looking to watch anything with high stakes or actual drama just heartwarming content oh and a talking bird that really needs to lose a few.
17.Lucky Star
It's been memed to hell and back has characters that walk the thin line between cutesy and downright savage.
While also not being afraid to parody everything under the sun. out of all the four panel comic strip manga to be adapted this one continues to rain as queen.
Sure the designs of our heroines are as moe as it gets but don't be fooled they know how to satirize the crap out of the medium.
We can pretty much pin down the success to konata whose lack of work ethic and die-hard nerdisms resonate with all of us.
16.Ochaco Uraraka
One of the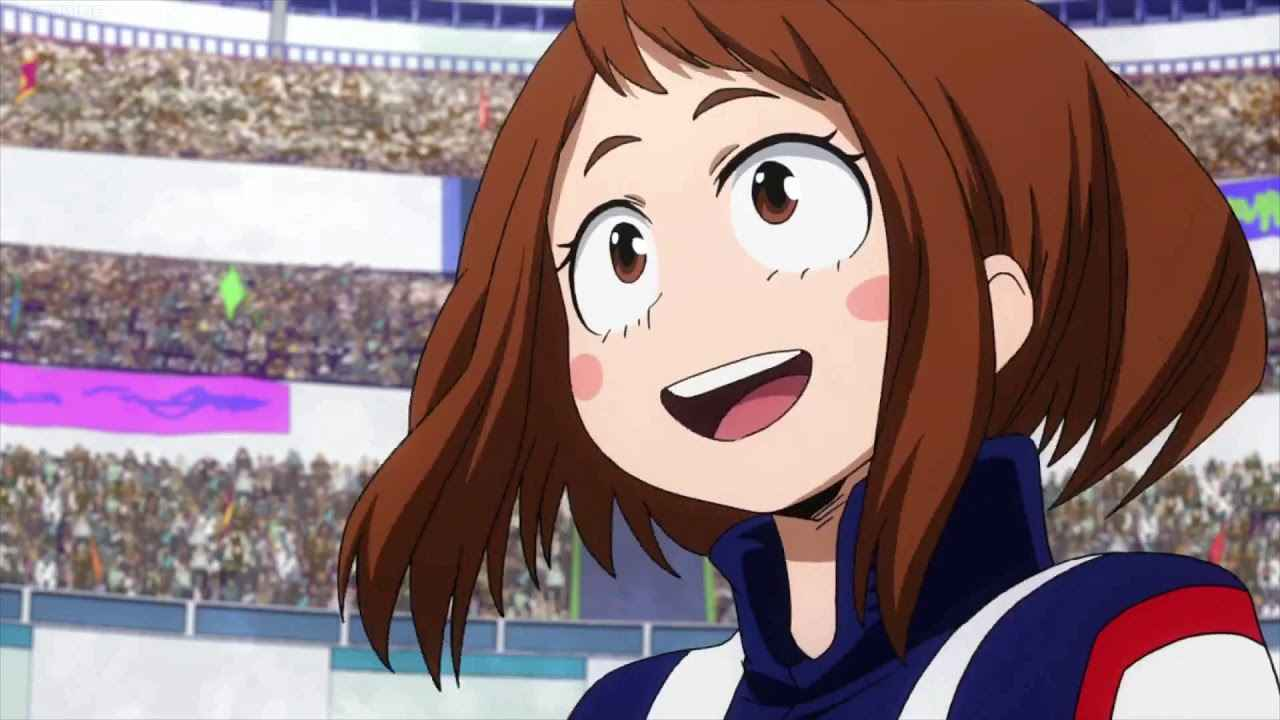 major characters in the anime series My Hero Academia is Ochaco.
Brown eyes, bobbed hair, and a perpetual flush on her cheeks characterise this teenage girl.
Ochaco loves to exaggerate and gets thrilled over little things.
She aspires to be like her love interest, Izuku, and is learning how to be a professional hero. She is in awe of him and his combat prowess.
Ochaco is a driven young woman. She intends to be a good hero even if she wants to be one to make money.
15.Kimi ni Todoke
You think you know romance you think you know the tropes but your soul is not ready for the purity that is sowako.
Ostracized because of an uncanny resemblance to that one character from the ring.
Saliko seemed doomed to remain alone. With her crush on mr popular kazaehaya nothing more than a distant dream.
At least until those around her start to see what an amazing and considerate person she is.
Watching sawako overcome her social obstacles while gradually earning the affection of newfound friends and the boy of her dreams is utterly enchanting.
14.Tohru Honda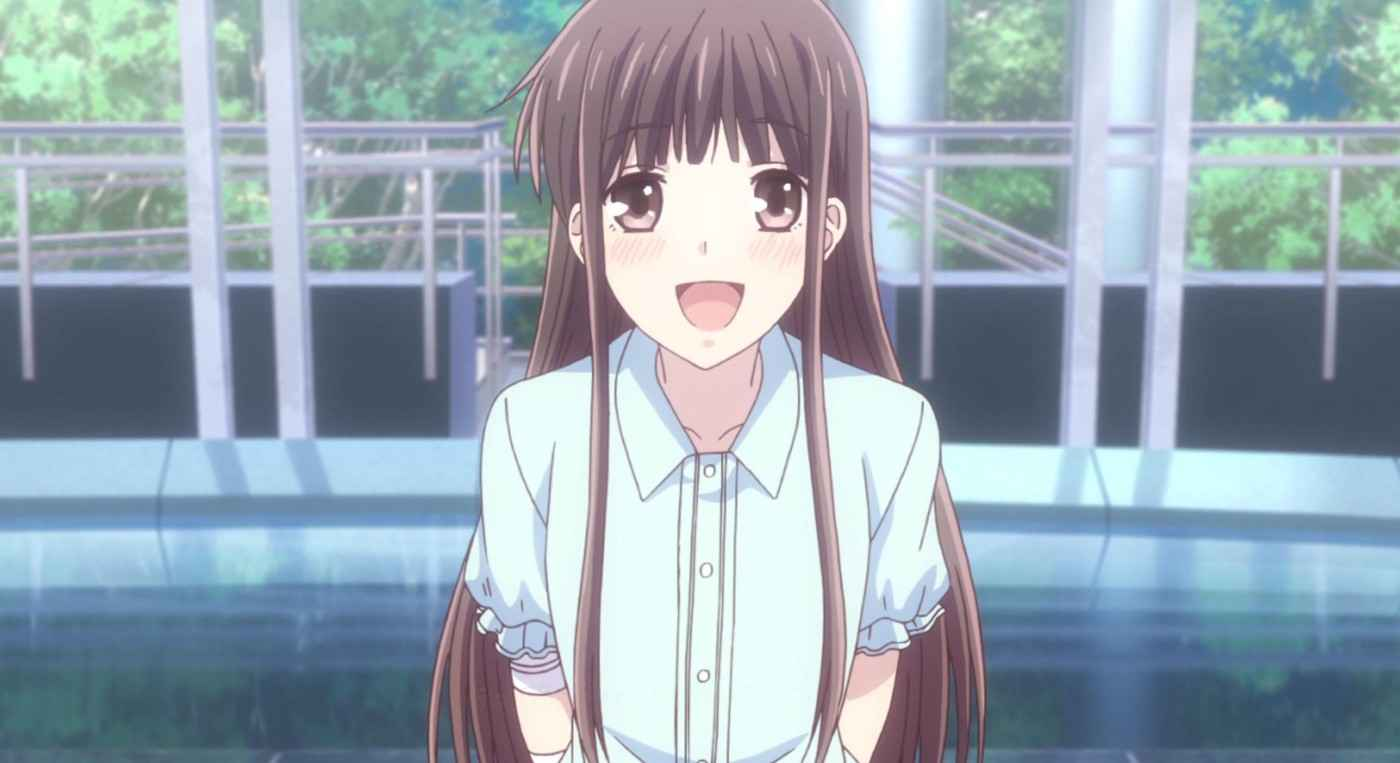 The protagonist of the Fruits Basket anime is Tohru Honda.
She is dependent on her family because she is an orphan with no living parents.
Tohru is a very mature and sensible young lady.
She works a part-time job to pay for her education since she doesn't like to be a financial burden.
Tohru is seen to be incredibly pretty, which she is, with her brown hair, thin build, and brown eyes.
Kyo is her love interest. Tohru is a darling who never stops grinning despite her numerous problems. She is dedicated and full of hope, believing that everything awful would eventually end. And we agree!
13.Usagi Drop
This thing ticks all the boxes when it comes to bringing the feels.
You have a down on his luck disillusioned guy who decides to step up as an adoptive parent when he discovers his deceased grandfather has a secret love child.
one who is treated by the whole family as an outcast.
Starting out as strangers with only a shared sense of loneliness to unite them.
Seeing daikichi and rain slowly grow closer as father and daughter never fails to make our hearts soar and it's for that very reason that we refuse to accept the manga conclusion as canon.
12.Adachi and Shimamura
They say love is the hardest feeling to understand and adachi and shimamura is proof of it.
This anime is about a girl called adachi who is best friends with shimamura but in a dream she witnesses kissing shimamura.
She soon begins to doubt her friendship with shimamura as she is overwhelmed by her feelings of love.
Behind all of that slice of life adachi and shimamura is an anime about coming to terms with your sexuality and relationships.
It broaches over some heavy topics but above everything else it's about the love story of two girls.
The underrated gem of the season i would definitely vote for this anime for that title.
Its 12th episode aired recently at the time of writing so now would be a good chance for you to binge watch this show.
11.Tsuyu Asui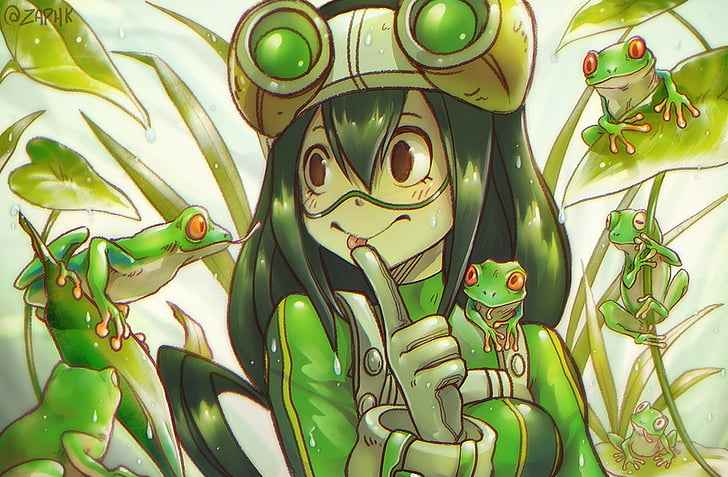 The character Tsuyu studies in My Hero Academia's class 1A. She has freakishly large eyes and long, straight green hair.
We like her since she has a slightly frog-like look.
Tsuyu has an extremely helpful disposition.
She manages her time between her schoolwork and family responsibilities effectively since she is a mature and responsible person.
Tsuyu has been raising her two younger siblings since a very early age and doing everything on her own.
10.Kuma Kuma Bear
Here we have another anime where cute girls do cute.
Oh wait i was wrong there this time cute anime girls get transported to an izakaya world so they can keep doing cute things.
Honestly i'm impressed by the show.
Don't go expecting a multi-layered plot and character development but it has a great cuteness factor.
You've got a cute girl dressed as a bear fighting monster so what more could you ask for.
I honestly think this would be the best anime to watch after you watch something dark or even when you feel depressed.
As i mentioned the show may be loosely hanging on the plot factor but that's not why you're watching this right.
You are here for the cute izakai factor.
9.Fate Prisma IIIya
Remember fate no not that mobile game that stole half of your wallet the original fate.
It was the anime that showed the war between seven masters and servants who massacred each other inside a small town but prisma ilia is different.
Keep those same elements of the greel war and remove all that bloodshed andcharacters getting corrupted by the darkness and then you've got prisma ilya.
Oh wait i missed something the main character of this show is the cold-hearted einsburn princess.
But let's just say she isn't cold-hearted anymoreand she seems to have a big brother complex way to sheru amiya.
8.Moka Akashiya
The Rosari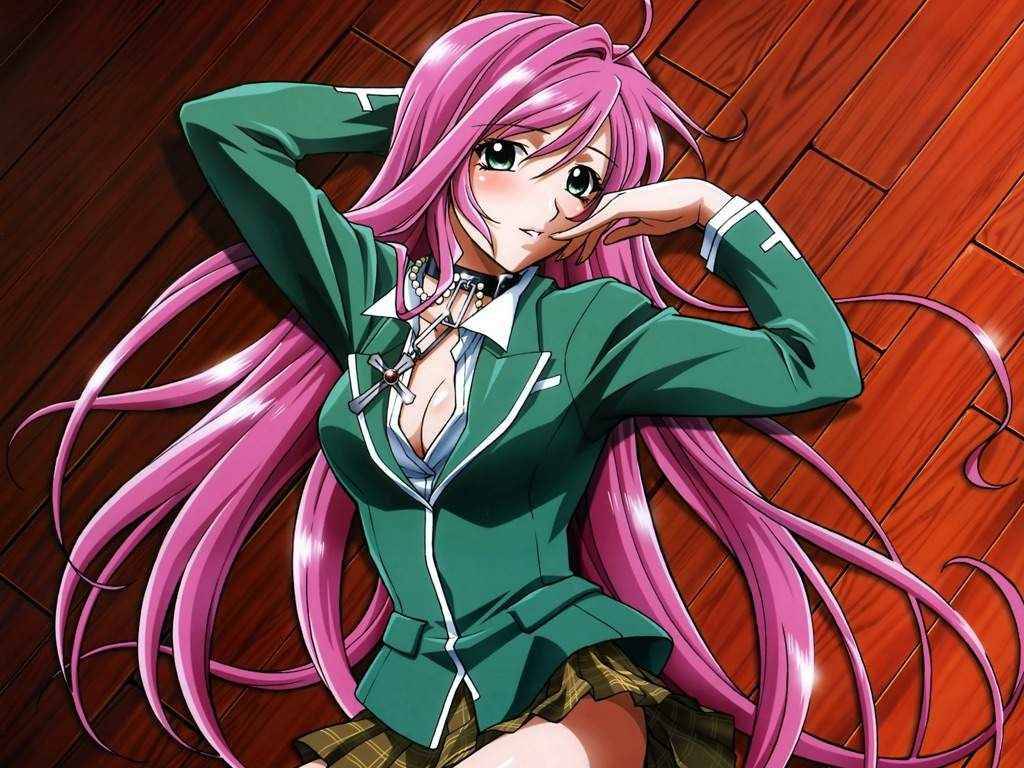 o + Vampire anime's female protagonist is named Moka.
She is a dual-personality vampire. She is quite alluring due to her attractive beauty and long pink hair.
Though she appears to be happy and pleasant on the surface (her "outer Moka"), she is actually frigid and aggressive within.
Tsukune Aono, the lone human student at a school full of monsters, falls in love with Moka.
Moka is a really kind-hearted person while she is carrying the rosary.
7.Miss Kobayashi's Dragon Maid
In anime you cannot expect large dragons who burn cities and kill kings.
When it is all about the kawaii factor these large beasts come packaged as cute anime girls.
This is what happens to kobayashi who is greeted by a large dragon who transforms into a cute girl.
She claims she arrived from outer space and has no place to live and since no person with sanity would ever let a dragon be their roommate.
Kobayashi decides to let the girl live with him and along comes the daily lives of kobayashi and her dragon maid and even though she's a maid the dragon seems to do the exact opposite when it comes to housework and ruins everything kobayashi had done.
You want a bizarre house relationship then watch this anime.
6.Hiyori Iki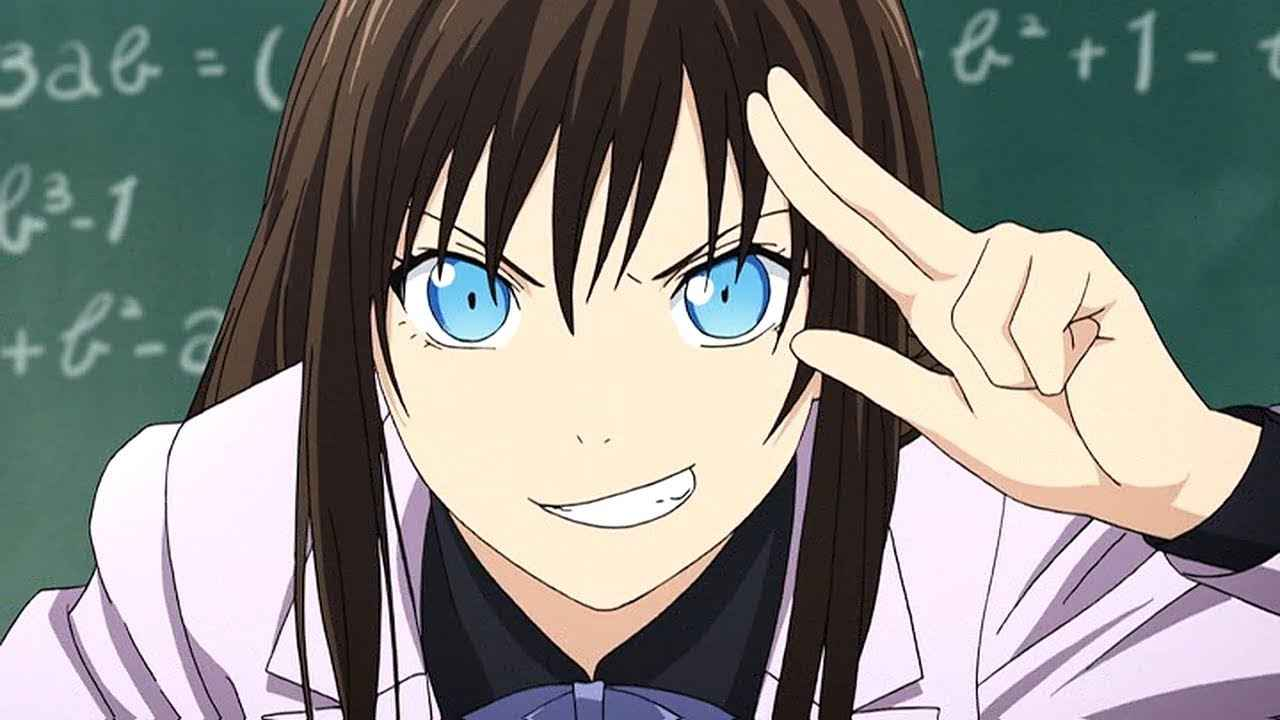 The female lead of the Noragami anime is named Hiyori.
Hiyori is a very kind person who is willing to put her own life in danger to save others.
She has dark brown hair and pink eyes.
Although she seems to be physically typical, her qualities are important to take into account. Hiyori is incredibly smart and matures into a lady.
She appears to have grown close to the minor God Yato, whom she shielded from harm while injuring herself in the process.
Hiyori is a highly dependable and devoted individual. A young person with such bravery deserves respect.
We hope that the makers will renew Noragami for a third season so that we may see more of our favourite character Hiyori.
5.No Game No Life
Hold back your criticisms we're not talking about the smart big brother but his rather silent sister.
This is about sora and shiro two hikikomori step siblings known for their online gaming skill and talent.
One day a god challenges them for a game and tells them about a fantasy world ruled by games.
Sora and shiro at first think it's a joke but all laughs are gone when they are transported to the world themselves.
Here everything is solved by playing games from minor street brawls to conquering countries.
Now this may be a code yes inspired as akai but you know where the cute factor comes from.
See everyone needs a sister to cure their depression.
4.Sawako Kuronuma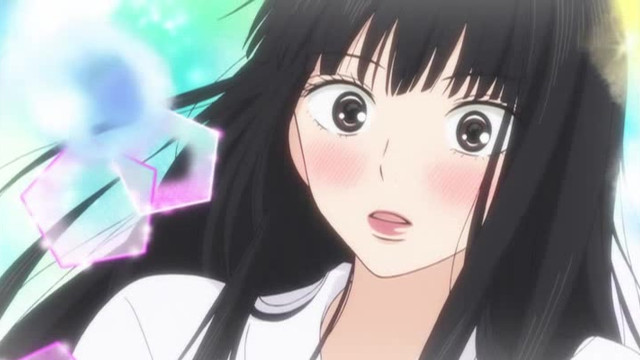 High schooler Sawako serves as the anime's primary character, Kimi ni Todoke. She finds it challenging to establish friends because of her poor communication abilities.
Sawako is attractive and has a slim build. She has a charming appearance thanks to her pale complexion, large brown eyes, black hair, and small lips.
She stands out among her friends due of her appearance, and when she smiles, others consider her to be very lucky (because of the rarity of the occurrence).
Sawako is a very lovely and unselfish girl, yet most of the time people misinterpret her. She frequently goes above and above to assist others, putting others before herself. Shota is Sawako's love interest.
3.Duran Highschool Host Club
This one is a little bit old but that doesn't make it less enjoyable because Duran high school host club is still considered as one of the best romance anime ever made.
The anime follows the adventures of a haruhi who accidentally breaks a vase in the host's club room and later joins the club in order to repay the debt.
The host club is a boys club that serves as enjoyment for the girls in the school and it is filled with characters of bizarre and weird personalities that you'll immediately fall in love with.
The cute character here is haruhi who at first is oblivious about the weird habits and personalities of the boys and then gets annoyed each time they pull a prank on her.
Laughs and cuteness you know what to watch.
2.Himoto Umaru-Chan
We all have personalities that we hide but have you ever thought the smart cheerful girl at school would turn out to be a brooding hikomori at home.
Trust me you'll start doubting the personality of girls after watching himoto umaru chan.
This anime follows umaru doma a high school girl living with her older brother taihei.
Umaru is all smiles and laughs at school but when she gets home she rolls over in a blanket and spends time eating and gaming.
The story is nothing action-packed or full of adventures but similar to many others in this list it shows the daily life of omaru and her brother.
Besides all that cuteness this show will give you plenty of laughs as well.
1.Love Chuniibyo And Other Delusions
Yuta is your average high schooler eager to escape his embarrassing middle school chinebu with a fresh start in the new high school.
Enter takanashi rika who is still a devoted chenibiu and knows yuta's former not so glory days as the dark master.
Well yuta's escape plan doesn't end well soon this new girl starts clinging onto him calling him the dark master.
And even decides to form an occult club centered around fictional characters.
Rika's character is cute from the start and even the pranks she pulls off will seem cute rather than funny.
If you ever have that friend who clung to you all the time with high school then this will definitely bring back some memories.
Final Words
So that is for our list of the top 35 cute anime girls of all time.
In my opinion the cutest anime girls are Ochaco Uraraka, Kimi ni Todoke and Akeno Himejima.
Let me know yours in the comments and the reason for picking it up.
This will help another user to find out thier cute anime girl.
About Author